By Joie Goh
Teaching multiple classes, zipping from studio to studio, and squeezing in meetings, workshops and their own workouts. Ever wondered what instructors eat to nourish their bodies, let alone even have the time to eat? Three of our instructors dish on their daily dishes.
Linda
The Gluten-free Goddess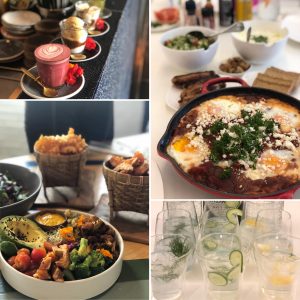 What's a typical day of eating like?
I normally have something light for breakfast as my mornings usually start with teaching a barre class. Some berries, a chai latte or some home-made kefir with a sprinkle of vanilla essence – yummy & full of probiotics! Proteins are my best friend for lunch, so my go-tos are usually a grain bowl filled with salmon or chicken with lots of greens! I like to indulge a little more for dinner, so it could something more carb-heavy like Asian stir fries with rice or gluten-free pasta.  I try to eat dinner before 8pm so that I have lots of time to digest before bed time. Going to bed with a bloated tummy makes it so much harder to fall asleep! In between meals, if I get peckish I have a handful of nuts, protein balls or some dark chocolate.
Why do you eat the way you do?
As being active is part of my job, I'm even more mindful of what I put into my body because I'm taking such good care of it holistically! I look to fresh produce, low or no preservatives and minimally-refined foods. Brown rice, monkfruit sugar and pure almond butter are nutritious alternatives to the usual refined carbs, white sugar and commercial peanut butter! I try to avoid gluten as much as I can because it makes me feel very bloated and gassy. Plus, it doesn't give me energy. I've been practicing mindful eating which is all about listening to what your body needs, versus just mindlessly eating because you're stressed or a habitual thing you do just because.
What's your guilty pleasure?
I love eating and I'd like to say that nothing is a 'guilty' pleasure because I choose to eat what makes me feel good! Even if that's sweet potato fries or coconut ice-cream, it's all good. Oh, and I can eat nut butter right out of the jar – black sesame, cashew, almond, you name it, I love it! I love hosting and cooking at mine too, so if you like a wholesome seafood stew or egg shakshuka, hit me up and let me feed your belly!
Elisa
The Nutrition Expert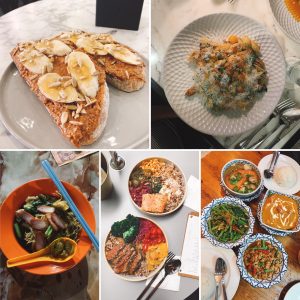 What's a typical day of eating like?
Meals-wise, I'm pretty much a boring eater and I'm easily satisfied. Breakfast is something I can grab and go. So peanut butter and bread is what I've probably been eating for 90% of the time in the past 7 years! I do slap on a very thick layer of peanut butter. I can polish off a 370g jar in 2 weeks! For lunch, I have a very standard rice, two veggies and one meat option that you can get at hawker stalls. I try to go vegetarian at least once a week, and my go-to option is thunder tea rice, with tofu or egg as my protein source. I need and eat carbs and never shy away from it cause of the amount of exercise I do. It's my sustenance and helps to keep me full.
Because there are nights that I end classes really late, dinner really depends on what's open and available at that time. Recently, I've been loving Dumpling Darlings! Whenever I lack vegetables and feel like I haven't gotten enough within the week, I make a smoothie and blend all my vegetable and fruits in and have it as a snack between my meals or occasionally, as my breakfast option."
Why do you eat the way you do?
When I first started teaching, I got gastritis pretty often due to the late meals and long hours between each meals. Therefore, it's super important for me to snack in between classes to keep me going. I'd grab milk or chocolate milk before class, or an avocado milkshake between classes to keep me filled and fuelled. Occasionally, I'll snack on whatever I can find, like a chocolate bar or crackers – stuff that's carby and protein-rich. Since I used to be a nutritionist, I think it's ingrained in me to naturally try and ensure I have balanced meals. I must get my carbs, protein, vegetables, fibre and vitamins all in a day.
What's your guilty pleasure?
I have a major sweet tooth, so anything from chocolate to cake and desserts! I'm never restrictive of what I eat, but I enjoy food and know it's about moderation. If I do indulge, then I just gotta work a little harder!
Joie
The Vegan Champion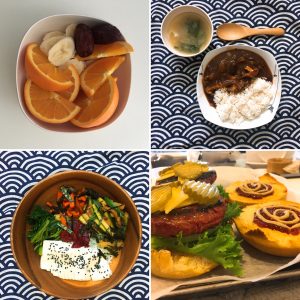 What's a typical day of eating like?
 As I often teach the 7am classes, I don't eat until after the first class of the day. Breakfast is usually bananas, oranges and a handful of dates. You'll often see me carrying an entire bunch of bananas around with me into the studio. Fruit is easy to carry around, since they don't need to be refrigerated, reheated or stored in containers. Lunch is often leftovers from the previous night's dinner, but when there isn't any, then it's more fruit! Dinner is when I get the chance to flex in the kitchen. I love making vegan versions of various cuisines, like Japanese, Korean and Mexican. I don't use oil to fry. Instead, I either steam, boil, air-fry or simmer in vegetable broth.
Why do you eat the way you do?
I need all the energy I can get, so my diet is almost entirely carb-based and occasionally, some plant-based proteins. I keep my fat intake to a minimum as I find that too much fat in the diet, even so-called healthy fats, gives my breakouts around my mouth and leaves me feeling bloated and sluggish. Also, I've been vegan for over 6 years, so I don't take anything with animal products. You might think that it's restrictive, but it's really not. I love cooking and hardly ever eat out, unless there's a new vegan restaurant in town I absolutely need to check out. Being a vegan has actually helped my emotional well-being far more than my physical. Knowing that I'm helping to reduce the demand for animal agriculture, one of the biggest contributors to environmental damage, makes me happy that I'm doing my part for my fellow Earthlings!
What's your guilty pleasure?
I'm a booze fiend and I love beer. Despite generally eating very healthy and minimally-processed (save the booze), I have a cheat day once a week. The Impossible Burger recently launched in many restaurants across Singapore, so I've been trying to sample as many as I can each week (Omakase Burger is currently my number one). I do have a fondness for processed mock meats like the Impossible Burger, Beyond Burger and all the goodies by Gardein and Quorn, but they are expensive so I don't get to indulge more than once a week. Just because I'm vegan doesn't mean I only eat sad salads all the time!